Product Name : BMW Mini Cooper

Item No. : CIR-Q7017 BMW Mini Cooper 2006-2013
General Features:
Compatible Vehicles:
- BMW Mini Cooper 2006-2013
- This head unit has been updated to the following one.
Android 9.0 4GB RAM 32GB/64GB Flash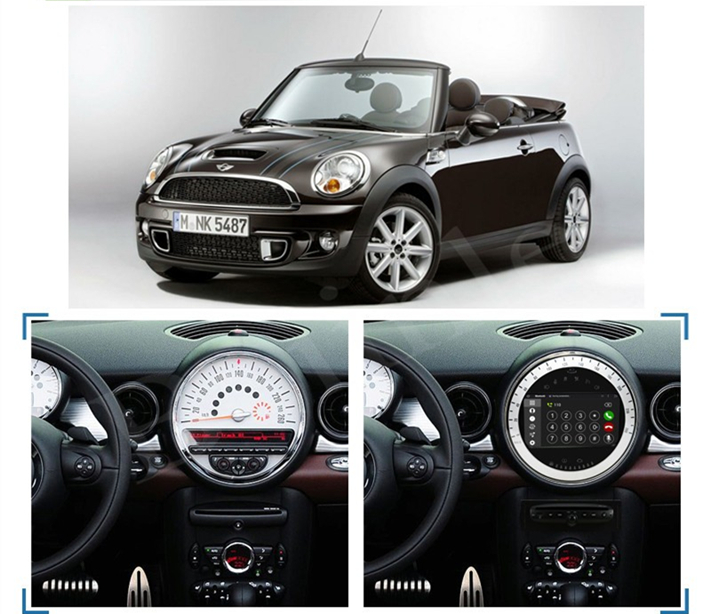 - CPU: RK3188 1.6GHz Cortex A9 Quad Core
- RAM Memory: DDR3 1GB Nand(flash): 16G
- Resolution: HD 1024*600 Capacitive Touch Screen
- Support Mirror-Link(Give)
- Support Bluetooth OBD2-ELM327
- Standard: DVD/GPS/Radio/RDS/Bluetooth/A2DP/Phonebook/Mobile Phone Charging/ USB/SD/WIFI/AUX/MirrorLink
- Optional: 3G/DVR/ISDB-T/DVB-T(MPEG2)/DVB-T(MPEG4)/DVB-T(HD)/DVB-T2/ATSC/8GB Flash Card Map/OBD2-ELM327/Support

iPod iPhone


- HD Capacitive touch screen 1024*600
- CPU Cortex A9 Quad-Core 1.6GHZ
- RAM:1GB DDR3 Flash:16GB
- Download compatible APP in Google Play Store
- Built-in WIFI Adapter Support 3G Dongle
- Bluetooth Phonebook, Bluetooth Handsfree, Bluetooth Music
- Support MirrorLink, OBDII, DVR, Rearview Camera
- Support Dual Zone function, while Navigating you can listen music
- Support GPS Map,such as Google online Map/Igo Map/Navitel Map/TomTom Map etc
- Multi OSD Languaes: English/ Russian/ French/ German/ Spanish/ Italian/ Arabic/
Portuguese/Turkish/Thai/Polish/Hebrew etc 60 kinds language
- Google Android 4.4.4 Operation System, Capacitive Touch Screen, Digital Screen (1024*RGB*600)
- Quad-Core(4 Cores) 1.6GHz CPU, 1GB RAM, 16GB Flash
- support extended Media Card/GPS Card/2 USB Stick up to 4*32GB
- DIY Main Menu Display: You can drag Search Bar, Weather Forecast widgets, Music/Radio/BT-Stereo Player,Apps or
other Bookmarks on main menu to display
- Built-In Clock and Calendar, it has a Real Clock to show time, Clock/Date/Week adjustable
- Multi-Languages: it has more than 60 Languages to choose, just check it in our pictures
- Choose 76 open unit logos and Radio Area in Factory Settings
- 8 live wallpapers, 21 wallpapers, support DIY wallpaper Gallery Pictures
- Built-in WiFi Modem, support 802.11b/g/n WLAN Standard, High Performance, Low Power Consumption
- Support 3G Internet, support extral USB Dongle: WCDMA,EVDO,TD-SCDMA.
- Support Google Maps Online Navigating, you can use GPS Navigating if you in Internet
- Support Android Maps Navigation, Free 8GB TF Card with maps will be in parcel contents included
- Support Dual Zone function, while Navigating you can listen music
- Support Android Multimedia Player, it can play Music/Movie/Photo local Disc or connected TF Card.
- Online Entertainment, support online video, TV, movie, music, radio, Youtube, Yahoo, MSN
- Online Communication, keep connected through WeChat, Twitter, Facebook, Gtalk, Gmail and other services
- Support read and edit Official Software, WORD/EXCEL/POWERPOINT/PDF/TXT.
- Support Google Play Store, you can download thousands of Apps here and you can download many popular games like
Fruit Ninja, Feed the Candy, Angry Birds, Fieldrunner, speed forge 3D...
- Support Torque Pro (OBD2 & Car), you can connect a ELM327 Bluetooth OBD2 Scanner Tool to use this function.
- Support the latest Mirror Link Apps AirPin(PRO) to mirror display the connected iPhone and Easy-Connect to mirror
display&control the connected Android Smart Phone (such as SUMSUNG Phone) on this unit
- Support 3D Games, HD Video, 1080P, H.264, DIVX Live images Formats
- Support HD Videos up to 1920*1080 pixels, Photo up to 4096*4096 pixels
- 4 x 45w Surround Stereo, Subwoofer Output
- Support Bluetooth hands-free function, built-in microphone and external microphone Jack.
- Support A2DP Bluetooth, can play stereo music through Bluetooth
- Download phone book function, you can download contact information your phone to this unit
- Support the newest Phone Book Search, you can search&find a contact member in downloaded phone book,just input
the first letter of name, you will find some associated names, then you can choose the right one
- Radio Tuner with RDS, 30 Preset Radio Stations (FM: 3*6, AM: 2*6)
- USB Port and Micro SD Slot, Support USB Stick and Memory Card up to 32GB
- Built-in Car DVR System, just connect with a USB Camera to use Car Record function. the records will be saved in

GPS card automatically, and you can play saved record on this unit directly.
- Support DVB-T/ISDB-T/ATSC/T2 Box input, Touch Control and Power supply
Android Car Radio DVD GPS Navigation Central Multimedia BMW Mini Cooper 2006 2007 2008 2009 2010 2011 2012 2013
Android Car Stereo Audio Autoradio Headunit Head unit
BMW Mini Cooper 2006 2007 2008 2009 2010 2011 2012 2013